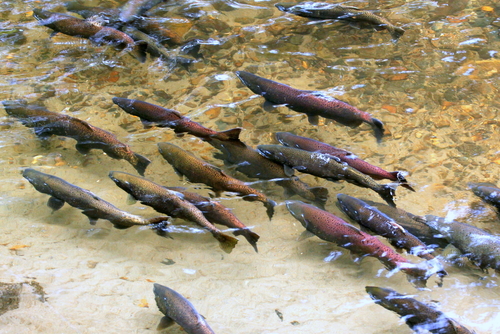 Review of ocean salmon fisheries
The Salmon Technical Team (STT) prepares annual posteason reviews of ocean salmon fisheries off the coasts of Washington, Oregon, and California to assess Pacific Fishery Management Council (Council) salmon fishery management and stock status. This annual document is referred to as "The Salmon Review" or SAFE document. The salmon review includes information on regulations, catch and effort estimates, spawning escapement, and economics.
Preseason reports
The Salmon Technical Team (STT) prepares these reports prior to the beginning of the ocean salmon season to guide the Council's selection of annual fishery management measures. The reports provide estimates of stock abundance and analyze the impacts of the Council's proposed and adopted management recommendations.
Access salmon SAFE and management documents
Historical data ("blue book")
These files represent detailed historical data used to generate the appendices of the Council's annual Review of Ocean Salmon Fisheries (SAFE document). These files are available for those that want additional detail for earlier years, or need access to data which can be manipulated or incorporated into other programs/documents.
There are instructions in the first worksheet or page of each file that explain the layout and some conventions. The worksheet numbers in the files correspond to the table numbers for Appendices A, B, and D.
Ocean Salmon Fishery Effort and Landings (Salmon Review Appendix A) (Excel file format)
Escapements to Inland Fisheries and Spawning Areas (Salmon Review Appendix B) (Excel file format)
Ocean Salmon Fishery Regulations and Chronology of Events (Salmon Review Appendix C) (PDF file format)
Economic Data (Salmon Review Appendix D) (Excel file format)
ALTERNATE download site for the above Historical Excel and PDF Files (FTP site)